Clockworks and Audio Builders Workshop (ABW, a working group of the Boston chapter of the Audio Engineering Society) created a simple Metronome project for people interested in building their own audio electronics. It's intended as an entry level project for anyone interested in learning about building electronics kits.  ABW has "build events" where the parts kit is made available along with soldering stations and volunteers to help you out.
If you have the kit and are building it at home and have questions please post them on ABW's Facebook page: https://www.facebook.com/groups/AudioBuildersWorkshop/
More about the kit
The build directions are available: ABW.build.r3
The build directions do not include an introduction to soldering. If you are new to this we suggest starting with this awesome guide written by Mitch Altman, Andie Nordgren, and Jeff Keyzer. You can also find numerous tutorials on YouTube.
The board was created using Altium Circuitstudio and all of the source files (along with output PDFs, gerbers, etc.) are available for download. You are free to use these files under the terms of the Creative Commons CC-BY-SA (Attribution-ShareAlike 4.0 International) license.
Link for source files zip: ABW.Metronome.r1.SourceFilesRelease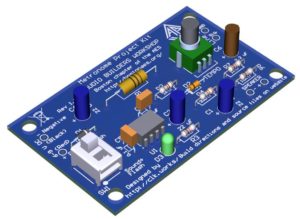 (it's been noticed that if you click the image for the 3D view Adobe pdf security settings may prevent you from viewing it. Instead download the pdf and open locally, and then enable viewing and then click on the blank area to get it to load)
The schematic and parts libraries can be opened in (the free) Circuitmaker software from Altium. Unfortunately Altium PCB files are not compatible across Altium products. You can open the PCB layout in Altium Designer.
Altium doesn't have native support for single layer PCBs so the layout is a bit hacked to make the 3D rendering more closely match the actual board.
Revisions and updates
The rev 1.0 PCB design has been posted along with revision 2.1 of the build guide. This is the first release.
Planned updates
Some improvements will be incorporated in a rev 2.0 PCB:
Increase diameter of copper pads to improve solderability
increase spacing of 1/4W resistors to 0.6″ and increase hole size to allow 1/2W resistors to be used
Increase D1 lead spacing to 0.5″
Fix R5's mounting tab hole location and increase length
Fix R1 silkscreen
Fix C6 part number code (to straight leads)